Item# SB1115 Model# SB1115
South Bend SB1115 - 21" Variable-Speed Gearhead Drill Press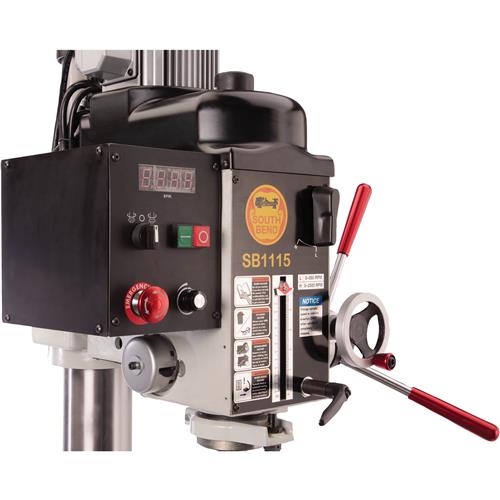 Motor: 1-1/2 HP
Power Requirement: 220V, Single-Phase, 60 Hz
Swing: 20 in.
Type: Floor
Range of Spindle Speeds: 0 - 2500 RPM
Drilling Capacity: 1-9/16 in.
Drill Chuck Type: JT6 Key Chuck
Quill Diameter: 2.938 in.
Shipping weight: 683 lbs.
Hover to View Details
Backordered - More on the way
Overview
SB1115 21" Variable-Speed Gearhead Drill Press
Unbeatable raw-drive power, performance, and precision.
This powerful, professional-level South Bend gearhead drill press features all the precision and high-end capability you need to put out your best work.
It is equipped with a variable-speed 3-phase motor with inverter that runs on single-phase, 220V power, which gives you greater speed ranges with a lower amp draw.
Additional features, such as a digital spindle speed readout on the headstock and a clutch-engaged downfeed function make this gearhead drill press top of its class in design and functionality.
The SB1115 is built to true South Bend high-precision industrial standards.
Like all South Bend products, the SB1115 comes with a 1-year warranty which covers parts and assures the unit is free from factory defects. (Consumables are not covered by the warranty.)
The SB1115 manual was written by our U.S. based Technical Documentation Department and is packed with useful information. The complete and easy-to-read manual makes it easier to assemble and maintain your drill press.
The South Bend Customer Service and Technical Support Teams are U.S. based. Parts and accessories for the drill press are available online and shipped from the South Bend parts warehouse in Springfield, MO.
Made in an ISO 9001 factory
SPECIFICATIONS:
Motor: 1-1/2 HP, 220V, single-phase, 5.5A
Spindle travel: 5"
Spindle taper: MT#3
Max. distance spindle to column: 10-7/16"
Max. distance spindle to table: 17-3/8"
Cross travel: 7"
Drilling Capacity: 1-1/2" (40mm) steel and cast-iron
Two-range variable spindle speed: 0–350 RPM (Low) and 0–2500 RPM (High)
Head travel: 13-3/8"
Head tilt: 30° Right / 90° Left
Table size: 19-1/2" L x 21-3/4" W x 2-1/4" T
Drill chuck type and size: JT6 key chuck, 1/64"–5/8"
Overall dimensions: 42" W x 35" D x 69" H
Approximate shipping weight: 683 lbs.
FEATURES:
Variable frequency drive for 3-phase speed control with single-phase power
Powered or hand crank-enabled rack-and-pinion table elevation
Coarse and fine downfeed controls
Red anodized spindle stroke and table elevation handles
Cast-iron base with two 1/2" T-slots, 8-7/8" on center
360° table and head positioning around column
Digital speed display
Front-mounted emergency stop button
Forward/reverse spindle switch