Item# T28780 Model# T28780
Grizzly T28780 - Router Table with Lift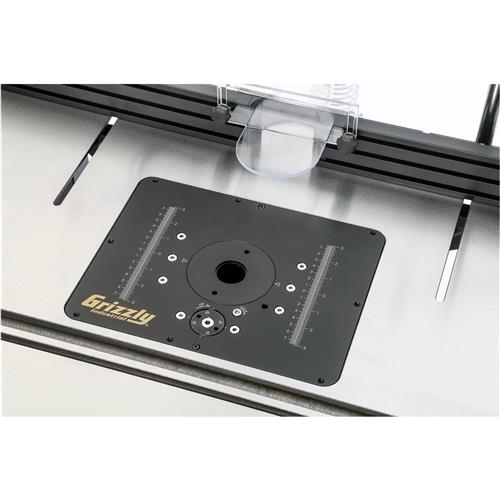 Professional quality at an affordable price point, the T28780 Router Table offers the perfect work surface for your routing operations. Plus, the built-in, micro-adjustable router lift accepts most brands of routers and securely locks into place during operation. The easy-to-use lift allows convenient access to the router for above-table bit changes, so the router never has to be removed from the table. Precision-extruded aluminum fences with T-slot channels allow for easy placement of hold-down accessories, and the clear bit guard offers a perfect view of the bit during operations. The router is enclosed in a steel housing for effective dust collection. If you're creating high-end profiles for molding and doors, you need a rock-solid workstation with the time-saving addition of a router lift. Choose the table size that suits your needs!
Made in an ISO 9001 Factory
Specifications
Table size: 32" x 24" x 1-1/2"
Aluminum table insert: 9-1/4" x 11-3/4" x 3/8"
Table fence size: 32" x 2-3/4" x 13/16"
Table fence material: Aluminum
Router table stand: 26" x 18-1/2" x 34-1/4"
Dust chute-fence: 2-1/4"
Dust chute - dust collection box: 4"
T-type outlet: 2" x 2-1/2" x 4"
Hose: 2-1/2" x 23-5/8"
2-1/2" hose clamp: 2 pieces
Fits routers 3.125" to 4.25"
Approximate shipping weight: 223 lbs.

Features
Router lift with handle and wrench
Optional magnetic or safety switch
View More Details
Backordered - More on the way