Item# T1240 Model# T1240
Grizzly T1240 - Benchtop Router Table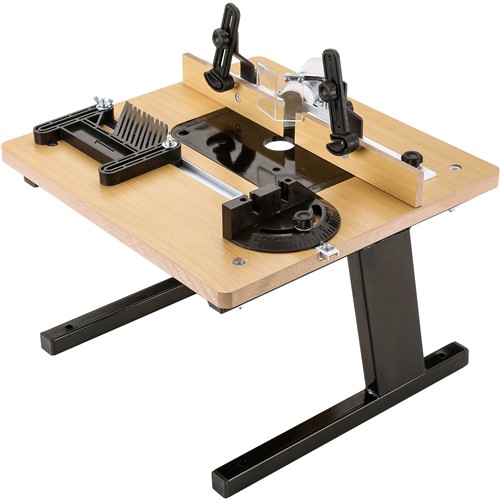 Buy now! While supplies last!
T1240 Benchtop Router Table
It's the perfect router table for a small-project hobbyist.
The T1240 Benchtop Router Table is ideal for those jobs that require a higher level of accuracy and control over a hand-held router, especially with smaller sized workpieces.
With a table height of 11-1/2" it will accept most full-sized routers, yet still allow a comfortable work height above your bench.
This router table comes equipped with many features of a full-sized router table, but in a compact size.
The features include an adjustable fence with hold-downs, featherboard, miter gauge, and 1-1/2" dust port.
Take your router operations to a higher level with this mini router table!
Like all Grizzly router tables, the T1240 comes with a 1-year warranty covering parts and assuring the unit is free from factory defects.
The T1240 manual was written by our U.S. based Documentation Department is packed with useful information.
The Grizzly Customer Service and Technical Support Teams are U.S. based.
Parts and accessories for the router table are available online and shipped from the Grizzly parts warehouse in Springfield, MO.
SPECIFICATIONS:
Suitable routers for mounting: 3/4–2 HP non-plunge routers
Table size: 16-7/8 x 15-3/4 x 3/4"
Number of table slots: 1
Table t-slot size: 5/8"
Plate size: 9-1/4 x 6-3/4 x 1/4"
Maximum plate opening: 1-7/16"
Fence size: 13-3/4 x 2-3/8 x 1-9/16"
Fence board size: 7-7/8 x 3/8 x 1-9/16"
Dust port diameter: 1-1/2"
Overall dimensions: 16-3/4" W x 15-3/4" D x 18-3/4" H
Approximate shipping weight: 16 lbs.
FEATURES:
Laminated table with steel legs
Clear polycarbonate router bit guard
Extruded aluminum track for miter gauge or featherboard
Includes miter gauge and featherboard
Hand-adjustable fence base and fence boards
Shop vacuum compatible 1-1/2" dust port
View More Details