Item# T28000 Model# T28000
Grizzly T28000 - Bear Crawl Heavy-Duty Mobile Base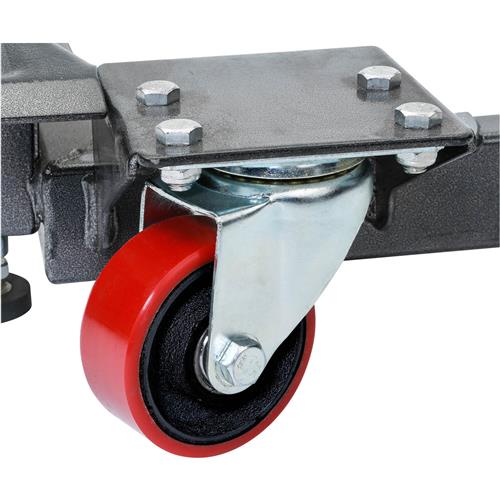 T28000 Bear Crawl Heavy-Duty Mobile Base
The freedom of mobility, made easy.
After years of customer input, product design and testing, we proudly offer you the best adjustable mobile base available.
Adding a T28000 Bear Crawl® mobile base under your new machine will help you easily move equipment around your shop without assistance to free up more time and space to work on your projects at hand.
Adjustable in size from 19" x 21" to 29-1/2" x 29-1/2, these mobile bases are designed to fit a wide range of machine sizes weighing up to 1200 lbs.
Utilizing swivel and fixed casters to provide an excellent range of motion, allowing you to easily maneuver your machine around and in even the smallest shop. Heavy-duty polyurethane and steel casters with sealed bearings offer smooth movement and won't leave marks on your shop floor.
The easy-to-use toe flip-stops allow for quick movement and secure parking of your machine. To move it just lift the toe-flip lever to engage the wheels. Once your machine is in position, press down on the toe-flip lever to drop the positive stop rubber leveling feet.
Depend on the rigid, solid assembly resulting from the solid steel construction and reinforced welded caster posts. Angle bolts make assembly easy, allowing you to construct the base around your machine — no need to lift your machine onto the mobile base. Bolts are strategically placed to provide extra clearance for cabinet doors.
The perfect mobile accessory for your woodworking machines.
Like all of the Grizzly mobile bases, the T28000 comes with a 1-year warranty covering parts and assuring the unit is free from factory defects.
The T28000 manual was written by our U.S. based Technical Documentation Department and is packed with useful information. The complete and easy to read manual makes it easier to assemble and maintain your universal mobile base.
The Grizzly Customer Service and Technical Support Teams are U.S. based. Parts and accessories for the shaper are available on-line and shipped from the Grizzly parts warehouse in Springfield, MO.
SPECIFICATIONS:
Minimum inside dimensions: 19" x 21"
Maximum inside dimensions: 29-1/2" x 29-1/2"
Maximum weight capacity: 1200 lbs.
Approximate shipping weight: 37.8 lbs.
FEATURES:
Heavy-duty polyurethane/steel casters with sealed bearings
Reinforced/welded caster posts
Adjustable steel bars
Powder coated finish to protect against the elements
Adjustable positive stop/rubber leveling feet
Two fixed casters and two swivel casters
Easy float toe-flip lifting levers
Corner-tight engagement bolts
View More Details
Backordered - More on the way