Item# G0638 Model# G0638
Grizzly G0638 - 10 HP 3-Phase Cyclone Dust Collector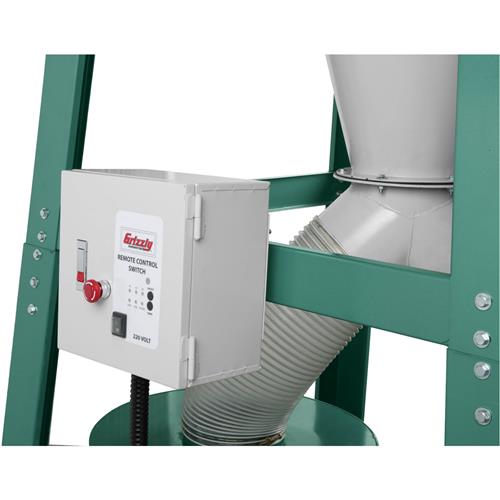 G0638 10 HP 3-Phase Cyclone Dust Collector
The cyclone dust collector for all your woodworking machines.
The G0638 features a whopping 4029 CFM capacity and can handle any large duct system with a static pressure loss less than 16.8".
Dual collection drums minimize the downtime when emptying dust and chips and the noise-reducing exhaust mufflers keep the noise level below 90 dB.
The ramped air intake is so efficient, there is very little fine dust that makes it to the plastic filter bags.
With a 99.9% filter efficiency rating, essentially no dust escapes.
The perfect choice for large shops with multiple woodworking machines operating at the same time, all day long.
The G0638 manual was written by our U.S. based Technical Documentation Department and is packed with useful information.
The complete and easy-to-read manual makes it easier to assemble and maintain your dust collector.
Like all Grizzly dust collectors, the G0638 comes with a one year warranty which covers parts and assures the unit is free from factory defects.
The Grizzly Customer Service and Technical Support Teams are U.S. based. Parts and accessories for the dust collector are available online and shipped from the Grizzly parts warehouse in Springfield, MO.
Due to product size, this item must be delivered to a loading dock or unloaded with a forklift. Liftgate not available.
Made in an ISO 9001 factory
CSA certified
SPECIFICATIONS:
Motor: 10 HP, 220V/440V*, 3-phase, 30A/15A,
Airflow capacity: 4029 CFM @ 4.3" SP
Maximum static pressure: 16.8"
Intake hole size: 12"
Filter surface area: 398 sq. ft
Cartridge filter diameter: 19-11/16" x 2
Impeller size: 18-1/2" steel radial fin
Sound level: 87-90 dB
Filter: Spun bond polyester, 99.9% efficiency from 0.2-2 microns
Collection drums: Steel, 55-gallon x 2
Stand: 13-gauge steel
Cyclone body: 16-gauge steel
Blower housing: 11-gauge steel
Overall dimensions: 76-3/4" L x 60" W x 139-3/8" H
Approximate shipping weight: 937 lbs.
FEATURES:
Ramped inlet maximizes dust flow into the collection drums
Steel collection drums have casters for easy dust disposal
Remote controlled magnetic switch
Class "F" motor
Dual pleated filters with cleaning brushes maximize air flow
Standard equipment mufflers reduce noise level without reducing air flow
16.8" static pressure for greater duct design flexibility
Includes stand

*This machine is prewired for 220V. We can rewire to 440V in a few days' time for a fee of $250. Please contact Grizzly Technical Support at (570)546-9663 before placing your order.
View More Details
Backordered - More on the way