Item# BE1194 Model# BE1194
Bald Eagle BE1194 - Pistol/Valuables Safe - 3 Button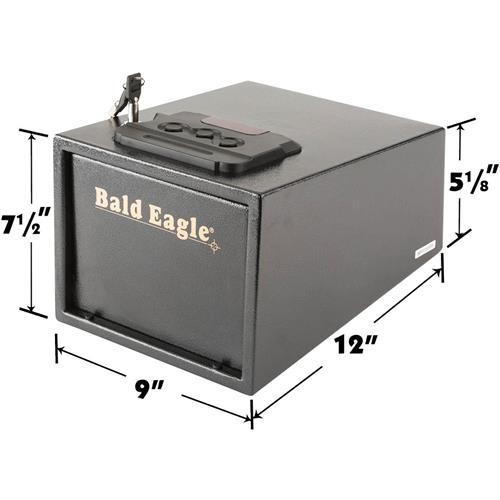 BE1194 Pistol/Valuables Safe - 3 Button
Quick access for the small things you want to keep safe, when you need them most.
This safe can hold two pistols and ammo or store your most valuable jewelry and small important documents such as passports and social security cards.
The 3-button combination lock accepts 3-8 digit codes for up to a possible of 81 combinations and includes a key override. The spring-loaded door gives you near-instant response. The all-steel construction is tamper resistant .
Like all Grizzly safes, the BE1194 comes with a 1-year warranty which covers parts and assures the unit is free from factory defects.
The BE1194 instruction sheet was written by our U.S. based Technical Documentation Department and is packed with useful information.
The Grizzly Customer Service and Technical Support Teams are U.S. based. Parts and accessories for the safe are available on-line and shipped from the Grizzly parts warehouse in Springfield, MO.
SPECIFICATIONS:
Outside dimensions are 9"W x 12"D x 7"H
Inside dimensions are 8-1/2" W x 10-1/4" D x 5-1/4" H
8-1/2" W x 6" D shelf
FEATURES:
Includes 1/4" mounting holes for fixing the safe to the floor
Perfect for ammo or small items
Safe silent mode
One interior shelf
Spring-loaded door
View More Details